Interviews can be nerve-wracking experiences, whether you're the one being interviewed or the one doing the interviewing. And while it may seem like there's a lot riding on the outcome of an interview, it's important to remember that mistakes happen. We're all human, after all. That said, there are some interview mistakes that are more common than others. If you're preparing for an interview, either as the interviewee or the interviewer, avoid making these 10 most common mistakes.
These are the following interview mistakes need to avoid
1. Being Unprepared is the biggest interview mistakes
One of the most common interview mistakes is being unprepared. This can take many forms, from not knowing anything about the company to not having any questions prepared for the interviewer.

If you don't know anything about the company, do some research before the interview. Read up on their website, their history, and their mission statement. This will give you a good foundation to start from and will show the interviewer that you're interested in the company.

Not having any questions prepared is also a common mistake. You should always have at least a few questions ready to ask at the end of the interview. This shows that you're engaged in the process and are interested in learning more about the company and the position.
2. Another interview mistakes is dressing inappropriately
One of the most common interview mistakes is dressing inappropriately for the role you're interviewing for. If you're interviewing for a job in a more casual environment, like a start-up, it's still important to dress professionally. This means no ripped jeans or t-shirts with profanity. Even if the interviewer says they don't care what you wear, it's important to make a good first impression and dressing appropriately shows that you respect the interview process.
3. Appearing Disinterested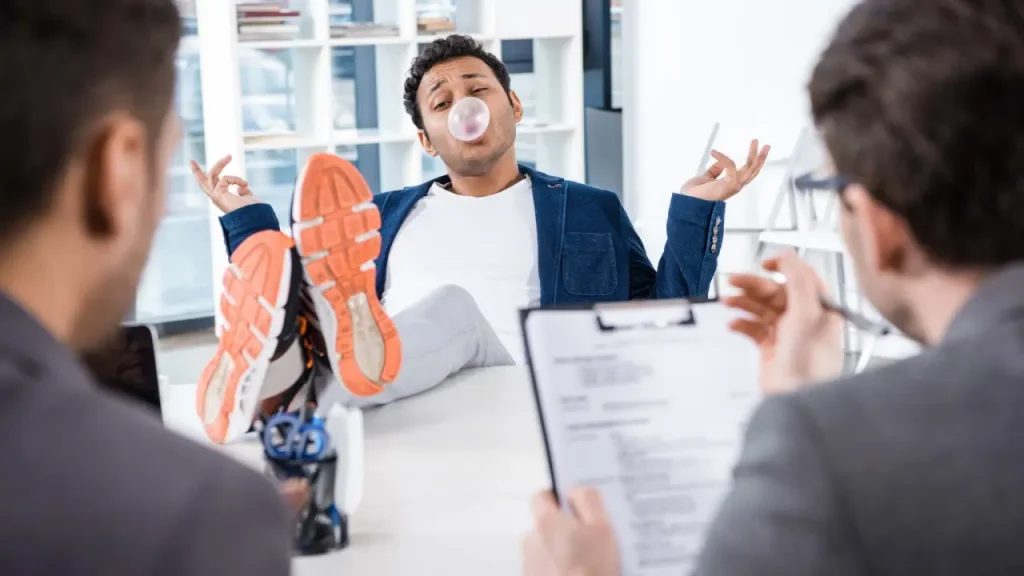 When you're in an interview, it's important to be engaged and interested in what the interviewer is saying. Unfortunately, sometimes people come across as disinterested, which can be a major turn-off for potential employers.

There are a few things you can do to make sure you don't appear disinterested:

Make sure to maintain eye contact throughout the conversation.
Nod your head occasionally to show that you're following along.
Avoid fidgeting or looking around the room; instead, focus on the person in front of you.
Try to ask questions about the company or position that show you're truly interested in learning more.
4. Fidgeting
In an interview, fidgeting can be a major distraction – not only to the interviewer, but also to yourself. It can make you look nervous and unprofessional, and can take away from your message.

To avoid fidgeting in an interview, try these tips:

Sit up straight and keep your hands still.
Avoid touching your face or hair.
Don't tap your foot or play with objects.
Make eye contact and smile.
5. Badmouthing past employers
Badmouthing your past employers is one of the most common interview mistakes. It reflects poorly on you and makes you look unprofessional. If you have a problem with a past employer, keep it to yourself. There's no need to air your dirty laundry in an interview.
6. Being late is another worst interview mistakes
If you're running late for an interview, call the interviewer as soon as possible to let them know. Apologize for the inconvenience and give them an estimated time of arrival. If you don't call ahead, you'll likely be disqualified from the position.
7. Not having questions to ask
If you're not prepared with questions to ask, it sends the message that you're either not interested in the role or that you're not taking the interview process seriously. Asking questions also shows that you're engaged and enthusiastic about the company and the position. Prepare a few questions ahead of time so that you can avoid this common mistake.
8. Answering a cell phone
If you're like most people, you've probably answered a cell phone in an interview at some point. It's an easy mistake to make, but it's a big turnoff for employers.

Here are a few tips to avoid this interview mistakes:

Turn your cell phone off before the interview begins.
If you must keep your cell phone on, put it on silent mode.
If your phone rings during the interview, excuse yourself and step out of the room to take the call.
9. Asking about salary and benefits too early
In today's job market, it is not uncommon for candidates to be eager to discuss salary and benefits. However, asking about these topics too early in the interview process can be a major mistake.

Salary and benefits should only be discussed after an offer has been made. If you bring up the topic too early, you risk giving the impression that you are more interested in the money than the job itself. This can hurt your chances of getting an offer, or negotiating a higher salary later on.

wait to discuss salary and benefits until after an offer has been made.
10. Failing to send a thank you note
One of the most common interview mistakes is failing to send a thank you note. It's important to show your appreciation for the opportunity to interview, and a thank you note is the perfect way to do that.
There are a few things to keep in mind when writing a thank you note:
Be sure to personalize each note. Generic notes are not as effective as ones that are specific to the interviewer and the conversation you had.
Keep it short and sweet. Thank the interviewer for their time, and mention one or two things from your conversation that you found particularly interesting or valuable.
End on a positive note, expressing your interest in the position and looking forward to hearing from them soon.
Sending a thank you note is a small but important step in showing that you're serious about the job opportunity. By taking the time to write a thoughtful note, you'll set yourself apart from other candidates and leave a lasting impression with the interviewer.
Conclusion
As you can see, there are a lot of common interview mistakes that candidates make. Some of them are more serious than others, but they all have the potential to ruin your chances of getting the job. The best way to avoid making these mistakes is to be prepared and aware of them before you go into your next interview. With a little effort, you can ensure that you'll put your best foot forward and increase your chances of landing the job.
Follow us to stay updated on LinkedIn, Facebook, Instagram and Twitter.