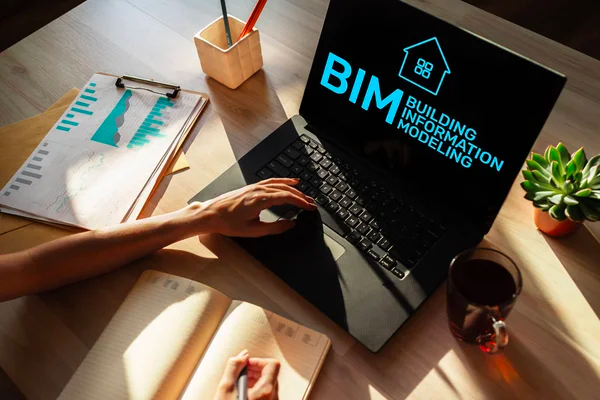 BIM, or Building Information Modeling, is not just a technology but a multifaceted design and construction process that empowers architects to create futuristic buildings.
BIM can deliver five key benefits during the design and construction process:
Cost-effective and optimized resource utilization
Improved efficiency and faster project completion
Enhanced communication and coordination between teams
Increased opportunities for prefabrication and modular construction
High-quality results and superior building performance
Partnering with an architectural firm that uses BIM can make the most of your resources and efficiently support the creation of innovative structures. If you are looking to construct a dynamic building most optimally, exploring the potential of BIM construction is highly recommended.
How Is BIM Used In Construction?
Architects utilize BIM as a comprehensive process during the design and construction of modern buildings. BIM involves various design tools and techniques to optimize every stage of construction and design for efficiency, safety, and cost-effectiveness. Here's a breakdown of how the process is implemented:
Modeling
In the first step, architects utilize BIM authoring tools to create intricate 3D models of the building. This stage enables them to test various design options and identify any possible issues or challenges before initiating the actual construction process.
Workflow
The second step involves establishing a workflow where all information and ideas related to the project are stored in a centralized location accessible to clients, architects, contractors, and other collaborators. This is typically a cloud-based software system that allows secure access from any location by connecting to the server. The BIM system stores a range of information, such as energy and light analyses, spatial planning, parametric modeling, material selections, cost estimates, and construction timelines. By utilizing these models and estimates, architects can optimize the construction workflow for the project and improve efficiency.
Construction
The third step involves the construction of the building by the contractors, with support from the architecture firm, using the established workflow as a guide. Contractors can refer to the BIM model or workflow during construction and make necessary adjustments. BIM's advantage is that it ensures that all stakeholders remain aligned throughout construction, even if the workflow evolves.
Benefits of BIM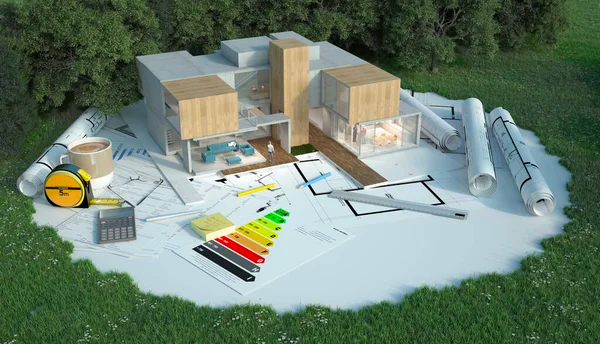 To gain insight into how building information modeling can enhance your project, it is crucial to examine the top five benefits of BIM outlined below.
Cost and Resource Savings
BIM offers a significant benefit by providing accurate construction cost estimates well in advance of the construction phase. Architects can utilize tools like BIM 360 Docs to estimate costs associated with materials, material shipping, prefabrication, modular pieces, labor, and construction timelines based on payrolls. This not only enables architects to get a better idea of the project's total cost but also helps them find ways to reduce expenses. For instance, they can select more cost-effective materials, purchase materials at their lowest market price, choose between prefabrication or on-site construction, streamline the construction workflow, and reduce human errors that lead to project delays or costly repairs.
Increased Efficiency and Reduced Project Timelines
Faster completion of a construction project translates to lower overall costs. It also accelerates the return on investment since occupants can occupy the space sooner. BIM enables architects to design buildings more quickly and commence construction at an earlier stage. Improved workflow and other efficiencies further accelerate the project. For instance, architects may choose to have certain components prefabricated in bulk using robotics, saving time during the construction phase. Contractors only need to install the pieces on-site when they arrive.
Enhanced Communication and Coordination
BIM improves communication and coordination among all parties involved in a construction project, including architects, clients, and contractors. By using a centralized system, BIM ensures that all relevant information is stored in one place, enabling easy access and sharing of data. This streamlines the communication process, allowing everyone involved to view the same information and collaborate more effectively.
Furthermore, BIM can be accessed on-site, providing contractors with real-time updates and ensuring they have the most up-to-date plans and workflow. This reduces the chances of errors and conflicts and helps ensure the construction process runs smoothly.
BIM also facilitates safer construction practices by allowing architects to anticipate potential hazards and make design adjustments to prevent them. Contractors can use BIM to guide their teams safely through each phase of the workflow and document the process for regulatory compliance and on-site evaluations.
Increased Potential for Off-Site Manufacturing and Modular Construction
BIM offers architects more opportunities for prefabrication and modular construction thanks to its ability to create detailed production models. These models can be used to create prefabricated building components off-site, saving time and reducing construction costs. Architects can also use BIM to design modular pieces that fit perfectly together, with complex tolerance calculations that ensure precision during construction. This approach streamlines the construction process, as contractors spend less time building components on-site from scratch.
Higher Quality Results
BIM's advantages go beyond the design and construction process, as clients may also observe a boost in the build's quality. BIM makes calculations and models more detailed and precise, resulting in superior-quality structures. Moreover, the BIM process includes various visualization tools that allow architects to customize and view the building's aesthetics, such as its lighting behavior. BIM also provides architects with five distinct visualizations, or dimensions, to consider while designing, including time, cost, environmental impact, and facility management costs over time. With these factors in mind, architects can create lasting and high-quality buildings.
Working With BIM Construction Experts
Working with firms who are knowledgeable about BIM can provide significant benefits in terms of project efficiency and build quality. One of the most challenging aspects of starting a project is predicting the required time and resources. BIM can help reduce this uncertainty by assisting architects in making better design decisions from the outset and keeping projects on budget by optimizing labor, materials, and other resources. Even if you have budget constraints, BIM can be used to achieve the desired design outcome through detailed 3D models and streamlined workflows. BIM is an essential tool for the design and construction process, and as the industry evolves, it will continue playing a critical role. Contact us today to benefit from the advanced BIM tools and processes in your next project.
About DJBH Global
DJBH Global is a globally recognized provider of BIM, CAD, and manpower sourcing services, delivering comprehensive solutions to clients worldwide. Our broad range of services includes CAD drafting, BIM consultation, training and certification, and other manpower services. Our skilled team, consisting of AEC professionals, can handle projects across various industries, such as construction, aviation, oil, gas, and more. We offer efficient solutions and workflows to support you throughout the construction process. Choose DJBH Global for your next project and experience excellence in BIM and construction services. With years of experience in working with the latest BIM technology, we can help you achieve your dream building with the best possible design, materials, and construction workflow.